How transcreating promotional technical journalism gave rise to a different type of Fr-En lexicon
by Steve Dyson
A French-English Lexicon of Naval Technology is now freely downloadable. This is the story of how it came into being.
The beginning
First, a few words about myself.
---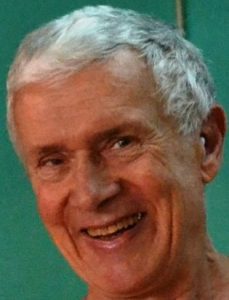 Born and raised in Melbourne, Australia, I set out to explore the world after completing a BSc in physics and math. I headed for Paris, France, via Africa, but took two years to get there. Just weeks after arriving, I was buzzing with excitement as I began picking up the language. Soon I had a vague idea that I would like to live in a rural setting while making a living at a desk.
After an apprenticeship of sorts with an older translator, I chanced upon a satellite engineer looking for a translator who understood French and physics. I freelanced for ten years for CNES, the space agency, and its contractors, then for another decade for satellite imagery specialist Spot Image and its suppliers. Professional ties led to work with a communications specialist who had recently been engaged to raise the international profile of French naval shipbuilding, in part by improving the quality of its marketing materials in English. I soon found the close collaboration¾including positive and negative feedback¾with these professionals both rewarding and enjoyable.
Currently a member of Mediterranean Editors and Translators (MET), I was for many years a member of the SFT in France and the APT in Portugal. Now semi-retired, I continue to work part-time for a handful of clients including Mer et Marine.
---
Awakening
Over the 20+ years I spent freelancing for the French space and earth observation industries, the proportion of technical manuals fell while that of technical journalism rose. During that time, I came to the realization that when a French client requested an English translation of an article for a technical magazine, the implicit aim — to have a positive impact on a specific readership, usually with a view to future cooperation — was often more important than the explicit instruction, namely to translate (closely) into English.
At first my efforts to convince clients of the merits of focusing more on implicit aims and less on close translation were not particularly successful. Some clients (often engineers assigned to writing tasks that they felt were beneath them) were offended that an outside translator should have the temerity (one used the word teleguidance) to modify their intended meaning. Fortunately, others came around to dialogue and deepening trust. As trust grew, exchanges focused less on the broader issues and more on my queries.
I was making progress, but the pace was slow until I moved to freelancing for the naval shipbuilding industry and abruptly changed in my area of specialization. I embarked on a reading program to come up to speed with a myriad of new technologies while pursuing long-standing efforts to improve my journalistic style in English. I now see that I had begun to develop a form of transcreation before we had a name for it. On my blog, I call it translation by emulation; on bills to clients, I call it traduction/adaptation. Some colleagues working for French clients were pushing in much the same direction at the time, including Chris Durban in finance and banking and John Smellie in defense and allied areas. John calls his approach editorial translation.
When working for the space and earth observation industries, I compiled simple two-column glossaries (which I later learnt, here and here, are more correctly termed lexicons), but I found the format less and less suitable as my approach to promotional technical journalism evolved. I studied terminology and its management and tested software before falling back on Microsoft Word as nothing suited my needs better. I explored and wrote about term mining using the web and dtSearch. All this was in the 1990s. Were I to start over, I might well adopt a different approach.
So what was the big challenge?
Conventional terminology work catalogues tightly defined senses of source language (SL) terms and target-language (TL) equivalents with one-to-one correlations where possible. This works well for source documents written with absolute terminological rigor, tolerably well for source documents written by competent technical writers, less well for other types of writing, and poorly for promotional technical journalism. Why? Because journalists (unlike technical communicators) detest repetition and technical journalists have an exceptionally large bag of tricks to avoid it.
Background
I have written about my terminology work in:
Matthew Kushinka at RedLine Language Services identified similar issues in 18 Ways to Say "Large Trees" in French. His paper suggests that French authors sometimes go to even greater lengths than English writers to avoid repetitions. If this is so, my approach, or something similar, may be even more useful to those translating from English to French.
My approach to translating promotional technical journalism is outlined in
For examples of my work, see
These posts demonstrate why I believe that simple bilingual word lists, conventional termbases and even translation memories, are inadequate for my type of work. The tools and methods available in the 1990s for compiling terminological resources also being inadequate, I attempted to take the process a step further.
Needs
I believe that terminological resources for translation by emulation should:
include the full spectrum of standard SL terms and TL equivalents
record the variability of SL terms and forms, including acronyms, metonyms, lexical stand-ins, etc. and
provide a wide range of TL options, again including acronyms, metonyms and lexical stand-ins, as well as translation tricks and work-arounds.
Sharing
I sold the lexicon first to my prime client at the time, naval shipbuilder DCNS (now Naval Group), then on Lulu where, given its niche appeal, it sold tolerably well for a while.
I have made the current version available free of charge for three reasons:
to receive feedback on the contents,
to assist others tackling the terminological challenges of translating promotional technical journalism, and
to give a little something back to the translation, terminology and naval defense communities.
To conclude, a quote from the front matter of A French-English Lexicon of Naval Technology.
Lexicon entries are primarily the result of terms encountered in the course of translation work or, less frequently, in the course of related reading. No attempt has been made to be exhaustive.
This lexicon:
groups ancillary information in French under the column heading "Autres infos" and ancillary information in English or French, depending on the source, under "Other info"
features "possible" and "prime" equivalents in columns 4 and 5, respectively
is a work in progress, albeit advanced, hence the question marks, blanks and other imperfections.
The clusters of often closely related entries corresponding to a single concept are the result of the author's attempts to record the often extreme terminological variability in the source documents. Capitalized variants are included to ensure success when the file is used in conjunction with capital- and accent-sensitive indexing and search engines.
In addition to standard equivalents, the "possible equivalents" column includes terminology drawn directly from articles by English-mother-tongue technical journalists, equivalents used by the customer's partners and competitors and, on occasions, entries leading to metaphors or other devices needed for "translation by emulation." This is a significant departure from the conventional notion of terminological equivalence. Caveat utilitor (let the user beware) applies. The user must analyze and understand the equivalents for what they are, and where necessary conduct further research to determine how to use the information presented.
©2018 Steve Dyson