by Mery Molenaar, S&TD Administrator
About the Survey
The Science & Technology Division conducted a survey from March 2 through April 10, 2022. We invited division members to share their experiences with using the division's media channels and to tell us about their networking and professional development needs.
We thank all of you who took the time to respond. Your responses are extremely valuable to us and will help us plan activities and determine how we can best serve the division's 1,600+ members.
Some results were expected and others were less predictable. One remarkable finding from our survey is the vast experience among respondents: more than two-thirds (70%) of respondents have more than 16 years of professional experience, while fewer than 4% indicated having worked in the field for 5 years or less. Although this seems to be a general trend in our industry and is consistent with results from the ATA compensation survey (Chronicle-March-April 2022), this is nevertheless a huge shift from a previous survey among S&TD members held in 2011, in which 25% of respondents indicated less than 5 years and 28% had more than 21 years of translation experience.
Below you will find a summary of the main takeaways from this survey. Read the full survey responses here, which can also be found under the Resources tab on our website. Note that names and email addresses have been removed from the results to protect the respondents' privacy.
Key Findings
In brief:
102 members took part in the survey
More than 2/3 of respondents reported having more than 16 years of experience, and less than 4% have worked in the industry for 5 years or less
Most respondents joined the division to learn about science and technology topics and to connect with fellow science and technology translators or interpreters
Respondents are making only limited use of the division's social networking sites Facebook (35%), LinkedIn (18%) and Twitter (9%)
At 75%, the groups.io email listserv is the most used media channel among respondents
The main reason why respondents are not using our media channels is a lack of member engagement and post interactions
More than 75% of respondents would like us to organize division webinars; with zoom workshops and virtual networking events following close behind
Weekdays generally work better than weekends for virtual events, and several members requested scheduling virtual networking events for time zones that are convenient for non-US-based attendees
Almost half (42%) of respondents are or may be interested in contributing to division activities, and entered their contact information for a follow-up. Thank you!
From Insights to Action
The S&TD Leadership Council recently met via Zoom to discuss the survey results. We were pleased to see that members are generally satisfied with the activities we organize. Inspired by our members' feedback, we are developing a series of initiatives to encourage more member engagement and bring people together.
We will increase the frequency of our virtual networking events to monthly or bi-monthly, and at different times of the day to give members in non-US time zones a chance to attend the event. Our next virtual networking meetup will be on June 21, 2022 at 11 am EDT.
We are considering several new initiatives, such as division webinars, member interviews, and podcasts to encourage more member engagement.
We will start using monthly prompts on the listserv to increase more organic engagement.
We will be re-activating the subscription feature on our website, where both members and non-members can sign up to be notified by email of new posts.
We learned that our members are subscribing to a variety of different media channels, so we will ensure to post and share announcements on all channels. That way everyone who is subscribed to one or more of our media channels (Groups.io, LinkedIn, Twitter, Facebook) will receive the information they need.
We would like to thank all of you who indicated an interest in contributing to or participating in division activities and entered their contact information. If we have not yet followed up with you, we will certainly do so in the near future.
We received several great suggestions for webinar and blog article topics. Among the many responses were also requests for information on topics that are not pertinent to our division, for example use of translation tools. Although these are excellent suggestions, we will avoid areas that are already covered by other ATA divisions, such as the ATA Language Technology Division, but we will share links to events and blog posts by other ATA divisions on our media channels.
Who responded?
We received 102 responses and were happy to see the wealth of experience our division has:

Communications
We asked our members which S&TD communication channels they use and why, and which they find most useful.

Other findings:
The email group/listserv is most often used for communications
The Facebook group is most often used to connect with others
Almost half of the respondents use the S&TD website most often to get news and events
The most reported reason respondents do not visit our social media channels is the lack of communications, engagement and post interactions. This downward trend appears to be the same across all our media channels
Activities
We asked members what type of activities they would like the division to organize or consider in the future. Here are the results:

NOTE: "Other" included member suggestions such as work referrals, in-person activities and skill-sharing events.
Other findings:
85% of respondents prefer virtual events to be held on weekdays
12pm-3pm ET is the most preferred time for virtual events (51%), followed by 3pm-6pm ET and 6-9 pm ET (both 45%)
Several respondents requested to have virtual networking events at times that are convenient for non-US-based members (Europe and Asia)
Engagement
One of the division's goals is to encourage members to get involved and participate within the division, so we asked in what way they would like to participate.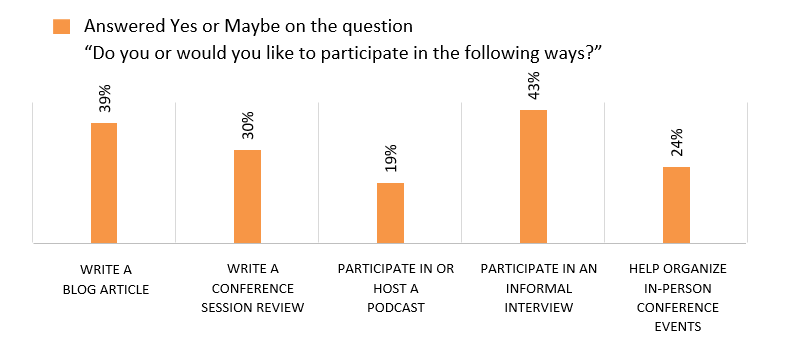 In addition, we asked respondents who indicated Yes or Maybe to voluntarily enter their name and email address so we can follow up.
Other findings:
Suggested topics or speakers for webinars (hosted by ATA or S&TD) ranged from engineering and space science to patentese and terminology management. Plans are in the works as to how to incorporate these topics in podcasts and/or division webinars. We will also continue to cover these areas in our blog, mailing list and social media platforms Facebook, LinkedIn and Twitter, and encourage our members to share topics of interest with our membership through these channels as well.
The Science & Technology Division is your division. We are thankful for our members and are proud to count you as part of our community. While we continue to create meaningful content and activities, we are calling on you, our members, to stay connected by sharing information, posting often on our social media channels, and attending our events.
We look forward to continuing to serve you!
We would like to thank Jamie Padula, ATA Chapter and Division Relations Manager, Lebzy González, Chair of the ATA Division Committee, and the members of our Leadership Council for their help with preparing and promoting the survey.