By Patricia Worsley
Attending the 63rd annual conference of the American Translators Association in Los Angeles last month was something I had looked forward to all year long. I had the opportunity to attend this event last year with my peers in the master's program in translation and interpretation at the University of Illinois at Urbana-Champaign—and I couldn't wait to do it again as a recent graduate. As soon as I could, I registered for the conference, booked my hotel and flights, and started planning which sessions I would be attending. I expected to have the same remarkable experience as before, only this time I would be seeing a few familiar faces and would be able to tell others I had finally graduated. Little did I know that I would be presented with an opportunity that would make my experience at the conference even more remarkable: a poster presentation, an initiative of the Science & Technology Division (S&TD).
The Poster Initiative
Implemented for the first time during this year's conference, this initiative was designed to provide exposure and networking opportunities for newer and less experienced ATA members. Since this was the first year, the initiative was open to just one university student or recent graduate. The aim was to give that person an opportunity to display a poster containing information about a recent project they had completed on the topic of translation, interpretation, localization, transcreation, linguistics, or associated technologies. The poster was to be displayed in a common area, where interested parties could engage in conversation, providing the person presenting the poster with a chance to network with other professionals. To learn more about this initiative, which greatly benefited me, see this blog post by Matthew Schlecht.
My First Thoughts About the Initiative
I must confess that when I first learned about this initiative, I thought it was a bit impractical, especially in my situation. I had recently completed a capstone project as part of the graduation requirements for the master's program I had been enrolled in for the past two years, so devising a topic to display on the poster would be easy for me. However, my trip from Memphis to Los Angeles was a different issue. I asked myself these questions: How could I possibly carry a poster with me on an airplane? Would I be able to roll it up or fold it? Would I have to mail the poster to the hotel in advance? How much extra money would this cost and how much extra time would it take? Due to these concerns, I decided to do some research before submitting my project for the poster initiative. After researching potentially suitable poster printing services online (there are several to choose from at affordable prices), and the requirements for carry-on items for the airline I was scheduled to fly with, I decided to submit my project.
Submitting My Project & Designing the Poster
To submit my project, I had to write a short summary of it, which I was very happy to do. In fact, it felt great to have the opportunity to tell the S&TD about it. After submitting my project, it did not take long to hear back from the folks at the S&TD. The good news they shared with me truly made my day and I started work on my poster right away. I chose to design my poster on a PowerPoint slide, using the high-resolution screenshots I had taken with Snagit for the original presentation I had prepared as part of my graduation requirement. The hardest part of designing the poster was deciding what information and images to use, since I had a very limited amount of space. It had taken me six months to complete my project, so condensing it into a poster in a logical way was challenging. After completing the design of my poster, I headed to a FedEx Office near me and printed it onto a 24" x 36" laminated poster, which was ready for pick up in less than 48 hours. The poster was sturdy but flexible enough to be rolled up and maintain its shape, even after being placed in a shipping tube (which easily fit underneath the seat in front of me during my flights). I was then ready to display my poster during the welcome celebration of the 63rd annual ATA conference.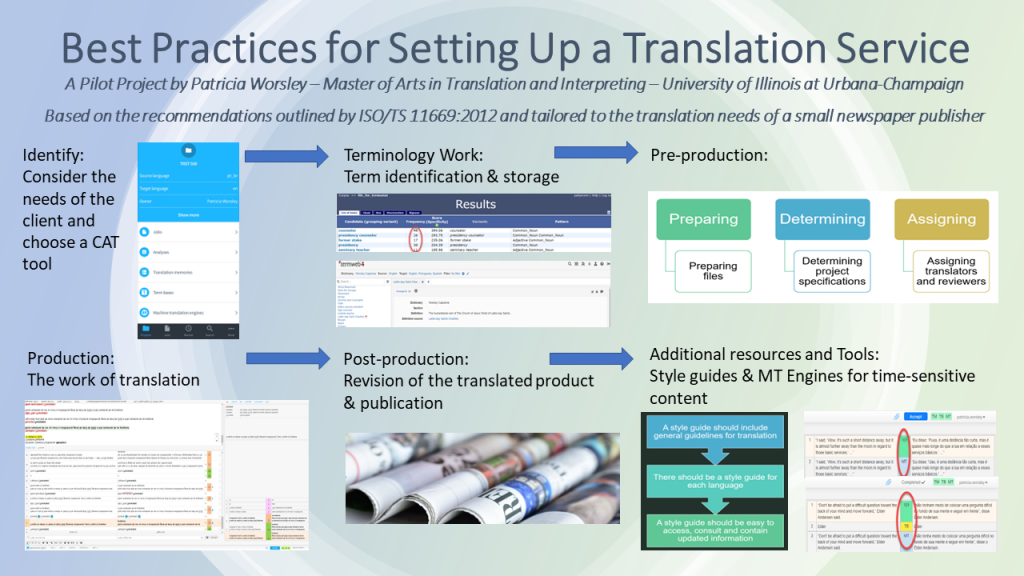 Displaying the Poster & Talking About My Project
Displaying the poster was a remarkable experience for me. During the entire two hours of the event, I had the opportunity to speak with other language professionals about my project, titled "Best Practices for Setting Up a Translation Service." I was glad to do so, as I had worked very hard on it and learned a great deal about the topic during my last semester of graduate school. The people who came to talk to me seemed genuinely interested in learning more about my project and asked me lots of relevant questions. I met many professionals and made several connections—and ended up leaving the event with a sore throat and pockets stuffed with business cards. A woman who administers a translation program at a university abroad even asked me if I would be willing to discuss my project with her students through a webinar. I did not think that my experience at an ATA conference could get any better, but the experience I had with this initiative really topped it off for me.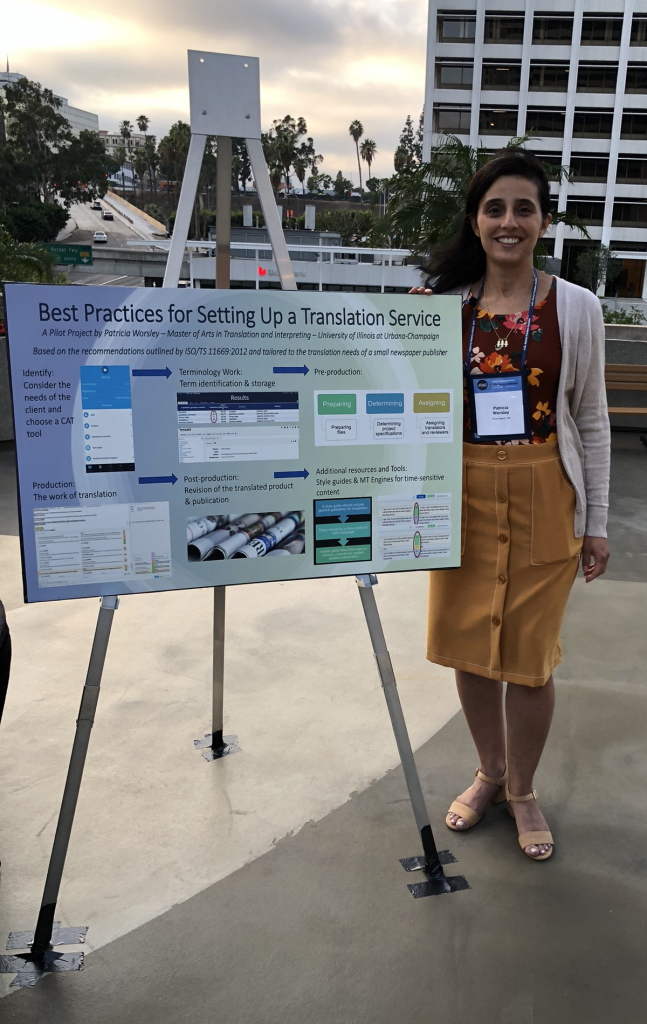 Big Shout Out to the Science & Technology Division
As I reflect on the experience this initiative afforded me, I can't help but feel immense gratitude that the S&TD devised this great idea to introduce students and recent graduates to the amazing community of professionals who attend the annual ATA conferences. I am truly honored to have been the first person selected to participate in this initiative. My hope is that the Division will continue to provide this incredible opportunity to newer members of the Association, and that other divisions will follow suit. It would be wonderful to see more posters set up during the welcome event at the next conference. As I mentioned in my personal post on LinkedIn: Big shout out to the Science & Technology Division! This truly was a unforgettable experience for me.
Author Bio:
Patricia Worsley is an English <> Brazilian Portuguese translator who studied at the University of Illinois at Urbana-Champaign. She graduated with a master's degree in Translation and Interpretation in May 2022. She has been translating since 2019, specializing in religious, journalistic, and genealogical content. She also works with search engine optimization and writes marketing texts, including transcreation of marketing content. She lives in the greater Memphis area with her family and enjoys reading, genealogy, bike riding, and sewing.