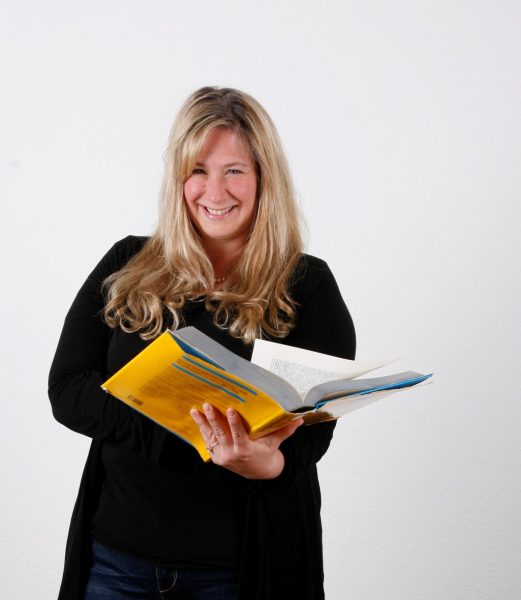 Name: Robin Limmeroth
LC position: Assistant Administrator of the German Language Division
Where are you originally from?
Stroudsburg, in the Pocono Mountains of Pennsylvania
Where do you currently live?
Mainz, Germany
How did you become a translator/interpreter?
I have always loved languages. After my first few German classes in high school, I added Spanish and French classes to my class load. My German teacher encouraged me to study German and become a teacher. I pursued this goal at Millersville University, but a year abroad studying in Marburg changed my plans for the future completely. While there, I met my future husband and realized that teaching was not for me. I completed my degree in Pennsylvania and returned to Germany. Following stints at Volkswagen and at an Israeli company running a bilingual office, I worked for several years at a major international marketing research company in Frankfurt. More and more translation requests landed on my desk, and I soon realized I wanted to spend the rest of my life translating. I switched to part-time and spent two years building up my business before I finally quit my "day job" and hung out my shingle.
What are your areas of specialization?
I translate and transcreate from German to English, working mainly in the areas of marketing and market research, PR, advertising, university education, online training, and tourism.
Along with my many years of experience in the marketing and market research sector, I spent two years working at Mainz University of Applied Sciences, which opened a lot of doors for me in the German academic world. And with my love of travel, translating for hotels and the tourism sector was a no-brainer. I love when I have the freedom to be very creative in finding the right words, which has come in handy when translating coffee table books on various subjects. That is always a lot of fun for me. I'm currently translating a volume of photographs on life at the beach.
What do you like about ATA?
For 20 years I was a "silent member", reading the Chronicle and interaktiv and lurking on the listserv, when I finally decided to take the leap and attend a conference (and make my debut as an ATA conference speaker on the same occasion!). It opened up my whole world as a translator. Freelancing can be very isolating, and connecting with all these different people, learning from them, hearing about their experiences–it was incredible. I returned home brimming with energy and ideas, and with renewed excitement about my work. A conference junkie was born.
ATA offers connections, but so much more–you find help with terminology, with business issues, with just about anything you may be struggling with … ATA helps you know your worth, shooing away that old imposter syndrome that may occasionally rear its head. And the professional development opportunities are priceless.
Tell us about your position on the GLD Leadership Council.
I first joined the Leadership Council as the Webmanager in late 2019, which gave me a glimpse of the inner workings and everything that goes into keeping our division running. Or so I thought. Already in my short time as Assistant Administrator, I have learned that it is so much more. It's incredible how much of themselves the people running the divisions invest. Karen is the perfect partner for me to work with, and she has put together an amazing Leadership Council and growing group of volunteers. I'm very excited to see what we can accomplish in the future!
Anything else you would like to share? (hobbies, a funny story, ….)
I love baseball, especially the Phillies. I have been a board member of the Mainz Athletics baseball club for many years, helping to further the sport I love here in Germany. I was raised by parents who lived a life of service, so it was never in doubt that volunteering would play a role in my life. I also inherited a love of travel from my parents, and hope to emulate them by visiting all seven continents (only two more to go!). And time spent snuggling with my geriatric vizsla Julius or the rare moment when one of my young adult children want to spend time with Mom is never wasted 😊